Preventative Care
Regular exams and cleanings are the best way to maintain a healthy smile and address possible problems before they progress. Here are some services we offer that help you establish good oral health habits for the future.
Dental sealants
Annual or semi-annual cleanings
Annual exams
Night guards and information about nighttime teeth grinding
Educational pamphlets, videos, Internet resources and knowledgeable staff so you know how to care for your mouth
Restorative Dentistry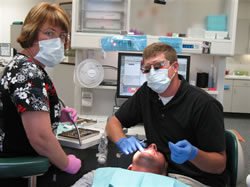 We offer many alternatives to restore teeth damaged from caries, fractures, abrasions, etc. Proper restorative care can help you maintain a dentition that is equally functional and esthetic. We also use intraoral cameras in order to visibly demonstrate problems and proposed solutions. Digital photos are also used to achieve ideal shade matches with our labs. Our restorative services include:
Composite (tooth-colored) fillings
Root canals
Bridges to replace missing teeth
Implant restoration (We also place implants for some cases)
Whitefish Cosmetic Dentistry
Dr. Dalen believes that cosmetic dentistry involves not only elective procedures such as veneers or tooth whitening, but also restoring teeth with optimum esthetics in mind. If you do not like the way your teeth look due to misalignment, staining, chips or cracks or any other reason, cosmetic dentistry may be an option for you. We believe in treating teeth the most conservative way possible and will give you all the possible options to improve your teeth. Some cosmetic dentistry procedures performed in our office are:
All porcelain crowns and veneers.
Tooth whitening (at home trays or in office power bleaching)
Single tooth whitening for darkened teeth that are root canal treated.
Minor tooth movement to achieve better arch form.
Gum recontouring.
Oral Surgery and Implant Services
Occasionally, teeth need to be removed that are unsavable or that do not have enough room to erupt normally. We are set up to perform many extractions in-office but also have a network of oral surgeons available for referral.
Dental implants are a great way to replace missing teeth or add stability to dentures. We now are able to place most dental implants in our office using 3D x-ray and computer-designed surgical guides.
Oral Surgery and Implant Services
Periodontal disease can cause loosening, pain, infection and the eventual loss of teeth. Diagnosis and periodic therapy can stop the progression of bone loss and help maintain teeth. We offer many periodontal services but also have active working relationships with area periodontists to give you the most comprehensive care. Our services include:
Diagnosis and patient education
Deep cleanings
Crown lengthening procedures
Gingival grafts to replace lost gum tissue
Prescription and/or placement of antimicrobials to be used in conjuction with cleanings
Bone grafting for implant site preparation
Prosthetic Services
Removable and fixed prostheses allow for the replacement of missing teeth. Options include:
Complete dentures
Partial dentures
Bridges
Implants for single or mulitple teeth, or in conjuction with a removable denture.
ClearCorrect
The ClearCorrect system is the virtually invisible way to straighten your teeth and achieve the smile you've always dreamed of. Using advanced 3-D computer-imaging technology, ClearCorrect depicts your complete treatment plan, from the initial position of your teeth to the final desired position. Then a series of clear aligners are custom-made for your teeth to move them little by little. Each aligner is worn for about two weeks before being replaced by the next in the series, until the final position of your teeth is achieved.
Digital X-ray
Our practice offers state-of-the-art digital imaging, providing the patient with less exposure to radiation as well as instant images.
Latest Technology for Impressions
We are now able to use a digital scanner rather than impression material for crowns and bridges. This is especially beneficial for those patients who have an active gag reflex. No more goo! And because it is digital, it expedites the process.